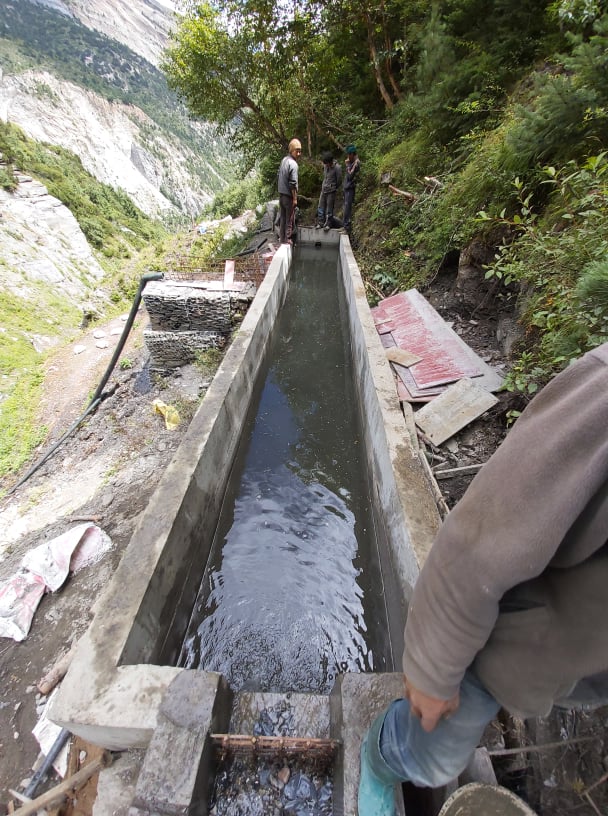 By Amrit Prasad Poudel, Beni, Sept. 9: The apple farmers of Gharpajhong Rural Municipality-2 in Mustang district have been elated for their 50-year old dream to get irrigation for apples have now come true.
An irrigation project of Rs. 13.3 million budget of Gandaki State Government and the efforts of the locals has recently been completed, in less than two years of its commencement.
For the last 50 years, the farmers had been using canals and Dnur, a traditional irrigation material made by carving raw wooden pole, for the supply of water to the apple orchards spread in around 500 Ropanis of land. The water brought to the fields from four kilometers away through canals would not be enough to water the fields as much of it would be soaked on the way.
According to Dipak Lalchan, a local farmer, continuous water supply would be ensured from the four-inch pipe after the irrigation project completes.
"This area has been declared by the governmental authorities as the area growing organic apples without using any pesticides and fertilisers. Now that the irrigation facility is managed, I am happy that the production of good, healthy, and quality apples will increase," said Lalchan.
The examination of the project run under the Water Resources and Irrigation Sub-division, Mustang under the Gandaki State Ministry of Physical Infrastructure, has completed successfully.
Sub-engineer Ramesh Subedi, site in-charge of the sub-division, said, "Although the trial was successful, we are yet to hand-over the project."
"The water has been brought to the field from four kilometers away by using 2,400 meters pipe, 1,050 meters RCC canal and other equipment," added Subedi.
Gandaki State Assembly Member, Candra Mohan Gauchan, had played a special role in the construction of the Jhong-Nhong-Dawang irrigation project.
The project had formally begun on February 13, 2019. Although the project was believed to complete within a year, the continuous snowfall during the winters had delayed it.
Farmer Lalchan said that farming of other vegetables and fruits could also be done as the irrigation facility reaches the village.
"The completion of the irrigation project has made all of us happy," he added.
http://risingnepaldaily.com/nation/50-year-old-dream-of-irrigation-facility-for-apple-orchards-come-true-farmers-in-marpha-delighted?fbclid=IwAR12V534zWJMn1EdBumulRVaVtTES6fyuzB1xFj832Bm7yg2EG1gLX4SP88
बिहिबार, भदौ २५, २०७७ मा प्रकाशित